Top 5 Sales Tips for a New Sales Strategy
Are you new to sales?
It's common to feel like a small fish in a big pond when you're the rookie salesperson in an established company. After your morning scrum meeting do you find yourself thinking, "What now? Where do I even begin to start a thriving sales strategy?"
These top 5 tips for new sellers will have the company veterans asking, "What's your sales strategy?"
Step 1: Examine Existing Customers
Arthur Ashe once said, "Start where you are. Use what you have. Do what you can."
The first step you need to take as a new salesperson is to start where you are, with existing customers.
Take out a sheet of paper (yes, I'm bringing it back to the stone ages), and dive into your database while creating a list of current clients. Don't just write down their names and stare at them. Put your detective hat on to uncover information on the customer's:
Current projects
Upcoming projects
Quality issues
Past complaints & praises
Historical data
If the information in your records is sparse, set up lunches with account managers to learn more. Frame the meeting as wanting to learn from the master while you absorb client intel.
The goal here is to discover potential growth opportunities. Growth opportunities often involve up-selling or cross-selling to get the most out of your established relationship.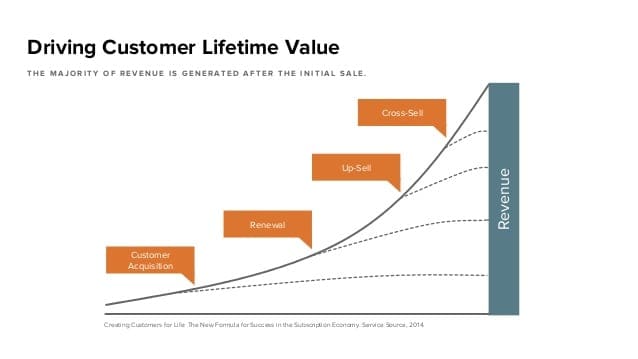 Based on the information you've gathered, rank your company's existing customers so you can begin to set up meetings and conference calls. That's where you'll swoop in as the superhero salesperson ready to increase customer satisfaction and sales.
Step 2: Re-engage Stale Accounts
After you've exhausted growth potential with current clients, the next step for a new salesperson involves moving from hot to cold.
Bill Kurtis won't hold a candle to your cold case file breakthroughs.
Similar to a cold case, many sales people gather information from a client, but after hitting a roadblock they fail to crack the case or create a sale. As a new salesperson, you can learn from their mistake to really close the deal.
In order to finally crack a stale account, you must do two things:
The first is to go back into the pipeline as far as 3 years ago and identify past clients your company has lost contact with, and potential customers they've stopped communicating with.  
The second thing you need to do is requalify. Instead of saying to yourself, "We already tried, and they're not interested," go through the qualifying process again to reassess. As a fresh face, you have the opportunity to reintroduce your company as a more qualified solution.
The pipeline holds a gold mine of potential opportunities because there's a transactional history, so you're able to close quicker. You've already done the hardest part, which is to get the attention of the person, so ensure the follow through finally closes the case! 
Step 3: Follow Up
How do you turn a stale relationship into a sale?
Two words. Follow up.
Follow up is hands down the most important step of a successful sales strategy.
You've called them. They haven't answered. You've emailed them. They haven't answered. You've emailed them 12 times. They still haven't answered. Now what?
Companies are inundated with sales pitches on a daily basis, and quite frankly, they're sick of it. Your calls and emails are likely being filtered out and sent to the sales graveyard.
You have to get creative with your follow–through tactics.
LinkedIn is a great place to brand yourself as a market expert so you can stand out from the crowd. You can attract high-paying clients with LinkedIn, by sharing valuable content daily. If you connect with a target client, you will get onto their feed, and into their heads.
It's crucial that your follow-up plan portrays you as an expert, builds trust, and most importantly, builds relationships.
Step 4: Don't Waste Energy on the Unsellable
If you're going in circles like a dog chasing its tail, take a step back and reevaluate.
Every lead is not worth your energy.
Companies that seem like the perfect fit at first, can end up being a complete waste of time. For example, if you can't identify what they're in the market for or how they can benefit from your services, you're just going to hit a brick wall over and over again.
Instead of trying to sell to the unsellable, push them down the cycle contacting list.
Follow-up is still key, so put them into an automated drip campaign, or engage with them on LinkedIn occasionally, but don't exert extra energy. As a new salesperson, you should chase HOT leads instead of chasing after your tail.
Step 5: Consistency is King
As a new seller, if you had to follow one tip, it'd be this one.
Be persistent, and be consistent.
Don't give up if you hit a roadblock, and always think outside the box.
With these top 5 sales tips for new sellers, you'll go from feeling like a minnow to a shark.
There's something energizing about being thrown into a company of veteran sellers and having to prove yourself as a rookie. Use that energy to your advantage to come up with new solutions for old clients, crack cold cases, and be creative with consistent follow-up tactics.
I want to hear about your greatest new-seller successes and lessons. Reach out to me on social so you can share your seller secrets with the world!
Kyle Milan is a well accomplished Industrial/Manufacturing sales and marketing professional with over 18 years of experience. He is the CEO of MFG Tribe and a Sales and Marketing Strategy & Social Media Marketing expert. He has published several articles at major news media outlets on various topics of; Inbound Marketing, Digital Marketing, Social Media Marketing & Advertising, Industrial Marketing, Manufacturing Marketing, and Entrepreneurship.
Connect With Kyle